Super-Sonic™ 22 Combo
N.º de modelo:
2160006000
Sonido y Estilo Super-Sonic
Los amplificadores Super-Sonic son los favoritos de los guitarristas profesionales de distintos géneros, los entusiastas del glorioso sonido limpio de Fender y de la expresividad añadida de la alta ganancia en un amplificador de válvulas. Perfecto para el escenario y el estudio, el combo Super-Sonic 22 de 1x12" ofrece esta versatilidad con la sensación orgánica de sonido y la potencia moderada del clásico Deluxe Reverb®. El canal vintage ofrece un inconfundible sonido Fender, y el formidable canal Burn ofrece desde saturación overdrive para sonidos de rock y blues hasta sonidos exuberantes de rock, pero sin enmascarar el timbre natural de tu guitarra. Disponible en acabado clásico Black/Silver o Blonde/Oxblood de 1961, con botones tipo radio en marfil y el artístico logo Fender de 1960.
Características
22 vatios
Altavoz Fender "Lightning Bolt" Eminence® de 12"
Plataforma de potencia Deluxe Reverb
Diseño de doble canal ("Vintage" con dos sonidos conmutables, y "Burn")
Reverb Fender de muelle largo
Funda a medida y pedal de control de cuatro botones incluido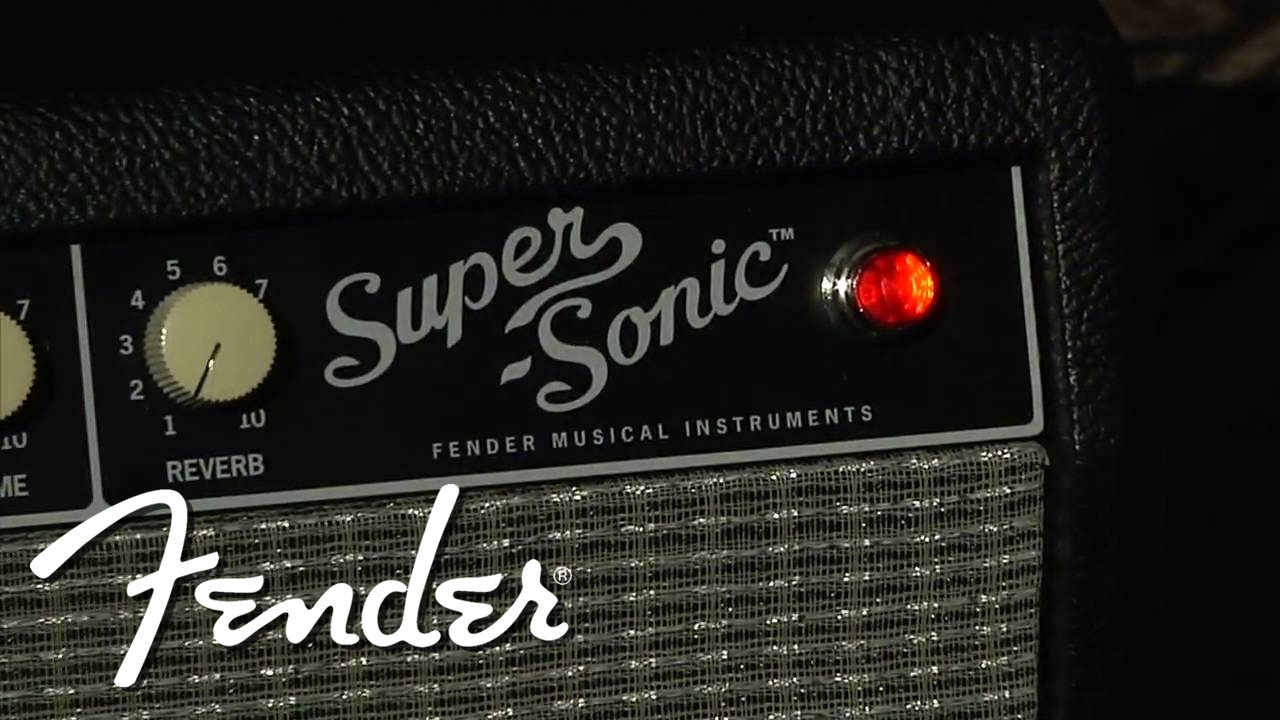 Rick Heins Demos the
Super-Sonic™ 22 Combo
Destacados
Simplemente, no hay nada como la pureza de sonido y la potencia de un amplificador Fender a válvulas. Durante décadas, la riqueza de sonido y la sensible dinámica de las válvulas reales aportan a los amplificadores Fender un sonido definitorio e inconfundible, que se ha empleado en la mayoría de grabaciones y actuaciones profesionales de los últimos 60 años, la música que has conocido toda tu vida.
Entre sus muchos y refinados atributos sonoros, los amplificadores de guitarra Fender como este son apreciados por su deliciosa unidad de reverberación de muelle largo. Ese característico sonido de ambiente húmedo y brillante, puede ajustarse exactamente a tu gusto, desde un toque sutil a envolvente y hasta cavernoso.
Este versátil modelo Super-Sonic cuenta con dos controles de ganancia para su canal Burn. El primero ofrece una sensacional distorsión y el segundo añade sustain y riqueza armónica.
Especificaciones
Voltage

230V EUR

Wattage

22 Watts at 8 ohms

Controls

Vintage Channel: Volume, Treble, Bass, Voicing Switch (Normal/Fat); Burn Channel: Gain 1, Gain 2, Treble, Bass, Middle, Volume, Master Reverb

Channels

Two - (Vintage & Burn: Vintage Channel has Two Selectable Voices)

Inputs

One - 1/4"

Speaker Jack

Two 1/4" Parallel (Internal and External)

Effects Loop

1/4" (Send/Return)
Cabinet Material

7-Ply 5/8" Birch Plywood

Amplifier Covering

Black Textured Vinyl

Grille Cloth

Silver

Amplifier Jewel

Red Jewel

Handle

Molded Rubber "Dog Bone" Style
Legal Notice

Los precios y especificaciones están sujetas a cambios sin previo aviso.
Speakers

One - 12" Fender® "Lightning Bolt" Design by Eminence®

Total Impedance

8 ohms
Preamp Tubes

3 x 12AX7, 2 x 12AT7

Power Tubes

2 x 6V6

Rectifier

Solid State
Footswitch

4-Button (Channel Switching, Fat On/Off, Reverb On/Off, Effects Loop On/Off) P/N: 0078324049 (Included)

Recommended Cover

P/N: 0047483000, '65 Deluxe Reverb®/Super-Sonic™ 22 Combo, Black
Amp Height

17.5" (44.5 cm)

Amp Depth

8.5" (21.6 cm)

Amp Width

24" (61 cm)

Amp Weight

40 lbs. (18.2 kg)