Bassbreaker™ 45 Head
N.º de modelo:
2266006000
Evolución Paralela
La flexibilidad es la característica principal del Bassbreaker 45 Head, el cabezal buque insignia y la última evolución del "abuelo" de todos los amplificadores, el '59 Bassman®. Este amplificador ofrece un sonido orgánico, crujiente y ronco con estilo propio, combinado con un rango dinámico formidable y unos sonidos a válvulas de timbre saturado redefinido. Esta potente bestia de la carretera ofrece un formidable sonido Fender con un toque moderno.
Características
Cabezal de 45 vatios
Tres válvulas de preamplificador 12AX7 y dos válvulas EL34 de potencia para un sonido de hard rock
Tres entradas para "salto de canal"
Conmutador de salida regulable de 1 a 45 vatios
Incluye funda protectora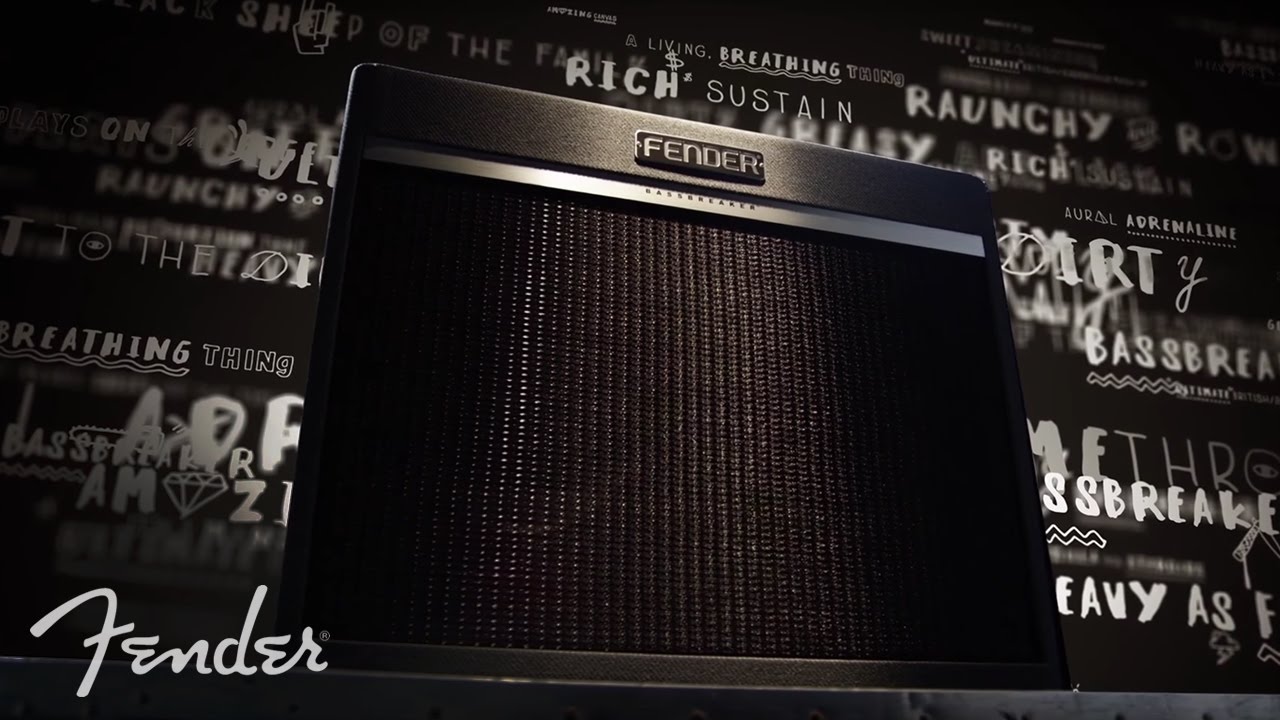 Watch Artists Experience The
Bassbreaker™ 45
Destacados
No hay nada como la pureza de sonido y la potencia de un amplificador Fender a válvulas. Durante décadas, la riqueza de sonido y la sensible dinámica de las válvulas reales han aportado un sonido definitorio e inconfundible a los amplificadores Fender, que se ha empleado en la mayoría de grabaciones y actuaciones profesionales de los últimos 60 años; la música que has conocido toda tu vida.
La entrada Both permite combinar las entradas Normal y Bright sin necesidad de un cable extra, y generar sonidos de máxima complejidad con una mayor definición de notas y respuesta dinámica.
Presente en innumerables grabaciones desde los años 50, este es el sonido atemporal de los amplificadores Fender de la era original del acabado en tweed, y de sus descendientes en cada década desde entonces, con una destacable sensibilidad al tacto y un sonido que cobra vida cuando se lleva al límite.
Especificaciones
Voltage

230V EUR

Wattage

45 watts

Controls

Volume Normal, Volume Bright, Output, Bass, Middle, Treble, Presence

Channels

Two - (Normal and Bright)

Inputs

Three - Normal, Bright, Both

Speaker Jack

Main speaker jack disconnects internal speaker to allow the amp's 1/4" output to be used with external speaker enclosures. Impedance select switch can be set to 4, 8 or 16 ohms.
Cabinet Material

7-ply 3/4" Meranti plywood

Amplifier Covering

Gray Tweed

Grille Cloth

Black

Amplifier Jewel

White Jewel

Front Panel

Black

Handle

Black Leather Handle
Legal Notice

Los precios y especificaciones están sujetas a cambios sin previo aviso.
Speakers

N/A

Total Impedance

4, 8, or 16 ohms
Preamp Tubes

3 x 12AX7

Power Tubes

2 X EL34

Rectifier

Solid State
Amp Height

10.75" (27.3 cm)

Amp Depth

8.5" (21.6 cm)

Amp Width

26.22" (66.6 cm)

Amp Weight

32 lbs. (14.5 kg)