new
Bassbreaker™ 15 Combo
N.º de modelo:
2262006000
Una "Caja de Sonidos" de Gran Flexibilidad
Sobrealimentado y con una gran variedad de flexibles características, el Combo Bassbreaker 15 es la última evolución del clásico sonido Fender Bassman®. El circuito ha sido rediseñado y ahora incorpora tres modos de distintos de saturación de válvulas. El fascinante sonido de las válvulas llevadas al límite de saturación que anunciaba el amanecer del hard rock. En el escenario o en el estudio, el Bassbreaker 15 es un combo de primer nivel, rebosante del sonido de rock más crudo.
Características
15 vatios
Altavoz Celestion V-Type de 12" y 8 ohmios
Selector Structure permite tres tipos de sonido distintos
Preparado grabación con silenciador de etapa de potencia, salida de línea XLR conmutable con simulador de altavoces emulado, y separador de toma de tierra
Fácilmente conectable con las cajas acústicas externas BB-112 o BB-212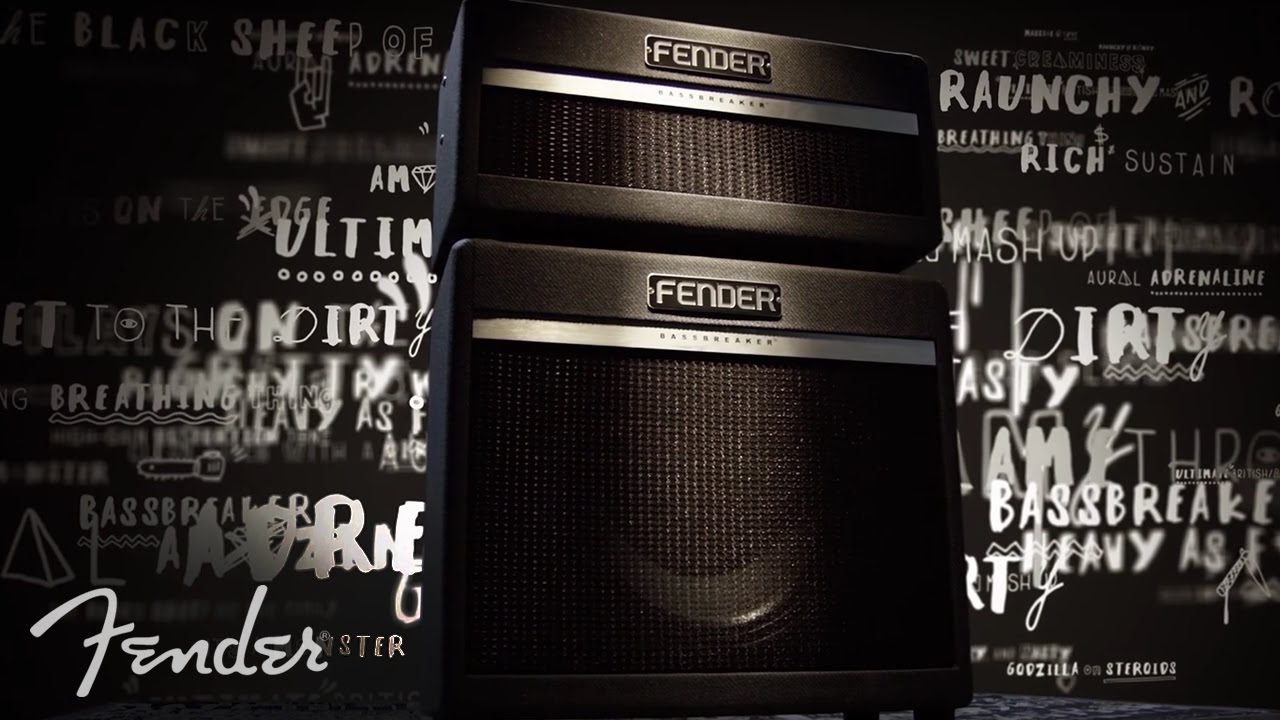 Watch Artists Experience The
Bassbreaker™ 15
Destacados
No hay nada como la pureza de sonido y la potencia de un amplificador Fender a válvulas. Durante décadas, la riqueza de sonido y la sensible dinámica de las válvulas reales han aportado un sonido definitorio e inconfundible a los amplificadores Fender, que se ha empleado en la mayoría de grabaciones y actuaciones profesionales de los últimos 60 años; la música que has conocido toda tu vida.
Este amplificador está equipado con el selector Structure que ofrece tres configuraciones distintas de sonido: un sonido comprimido; un sonido de canal limpio tipo boutique; y un sonido de saturación overdrive.
El bucle de efectos permite situar los efectos de salida con precisión dentro de la cadena de señal vía la salida del preamplificador y las entradas de la etapa de potencia en formato jack de 1/4".
Especificaciones
Voltage

230V EUR

Wattage

15 Watts

Controls

Bright, Gain, Structure, Bass, Middle, Treble, Master, Reverb

Channels

One - (with Selectable Amp Voice)

Inputs

One - 1/4"

Speaker Jack

Main speaker jack disconnects internal speaker to allow the amp's 1/4" output to be used with external speaker enclosures. Impedance select switch can be set to 4, 8 or 16 ohms.

Effects

Reverb

Effects Loop

1/4" (Send/Return)

Line Out

One - (XLR with Ground Lift)
Cabinet Material

7-ply 3/4" particle board

Amplifier Covering

Gray Tweed

Grille Cloth

Black

Amplifier Jewel

White Jewel

Front Panel

Black

Handle

Black Leather Handle
Legal Notice

Los precios y especificaciones están sujetas a cambios sin previo aviso.
Speakers

One - 12" Celestion® G12V-70

Total Impedance

4, 8, or 16 ohms

Speaker Wattage

70 Watts
Preamp Tubes

3 x 12AX7

Power Tubes

2 x EL84

Rectifier

Solid State
Footswitch

NA

Recommended Cover

P/N: 7707953000, Bassbreaker™ 15 Combo/112 Cab
Amp Height

17.5" (44.5 cm)

Amp Depth

9" (22.86 cm)

Amp Width

19.56" (49.68 cm)

Amp Weight

40 lbs. (18.2 kg)