'65 Twin Reverb®
N.º de modelo:
0217360000
El Sonido y Estilo Fender Definitivos
Un verdadero clásico de Fender apreciado por guitarristas de todo el mundo durante décadas y uno de los mejores amplificadores de backline que jamás se han construido. A mediados de los años 60 el Twin Reverb se ha utilizado en todas las salas de concierto imaginables y sigue siendo indispensable hoy en día. Ya sea rock, blues, country, jazz o cualquier otro estilo, el Twin Reverb ha definido el sonido limpio de la guitarra eléctrica. Con sus dos altavoces de 12", la estética atemporal y su sonido esencial, el '65 Twin Reverb® es un magnífico amplificador que te transporta a una era electrizante con un sonido y estilo Fender definitorios.
Características
85 vatios
Dos altavoces Jensen® C-12K de 12"
Dos canales (Normal, Vibrato)
Reverb Fender y trémolo ("vibrato")
Brazos de soporte para montaje reclinado
Estética clásica Fender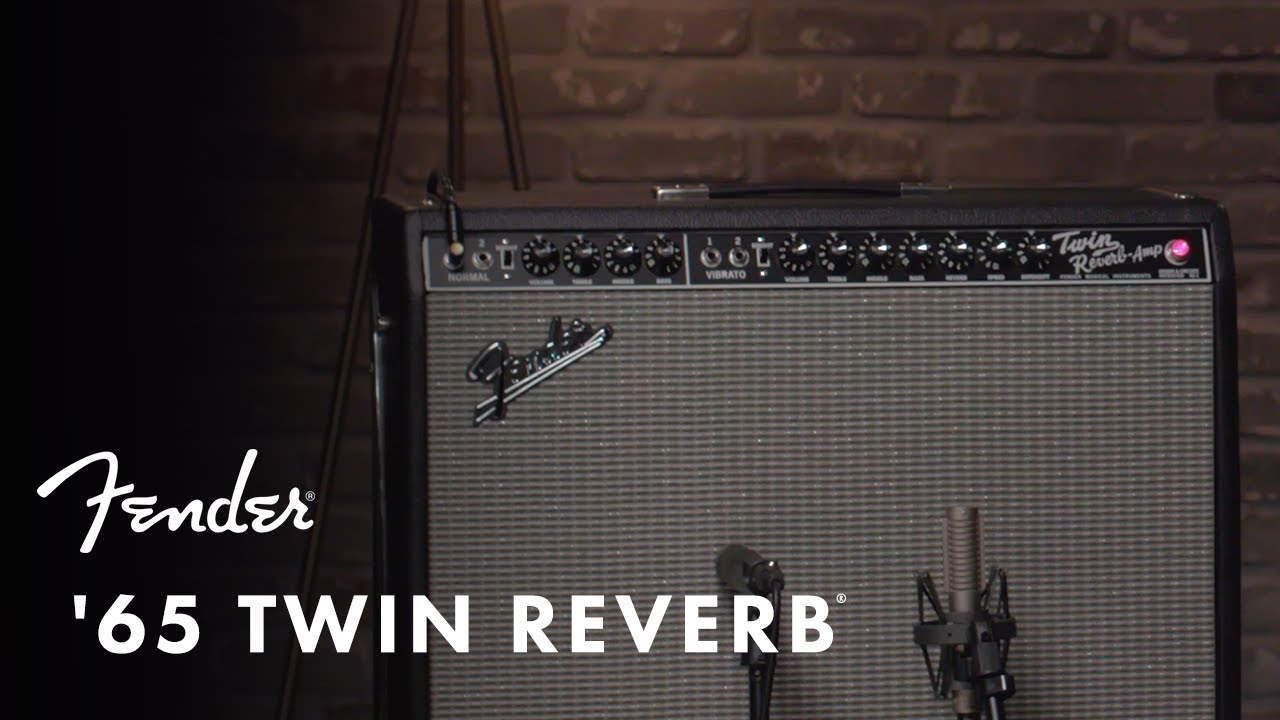 Destacados
Simplemente, no hay nada como la pureza de sonido y la potencia de un amplificador Fender a válvulas. Durante décadas, la riqueza de sonido y la sensible dinámica de las válvulas reales aportan a los amplificadores Fender un sonido definitorio e inconfundible, que se ha empleado en la mayoría de grabaciones y actuaciones profesionales de los últimos 60 años, la música que has conocido toda tu vida.
Entre sus muchos y refinados atributos sonoros, los amplificadores de guitarra Fender como este son apreciados por su deliciosa unidad de reverberación de muelle largo. Ese característico sonido de ambiente húmedo y brillante, puede ajustarse exactamente a tu gusto, desde un toque sutil a envolvente y hasta cavernoso.
El sonido del vibrato, rico y palpitante en cualquier grado de ajuste, desde sutil hasta estupendo, forma parte del ADN de los amplificadores de guitarra Fender. Siempre ha sido así y siempre lo será.
Capturado en innumerables grabaciones, este es el fantástico sonido cristalino, que satura sutilmente al llevarlo al límite, y la reverberación cavernosa de los famosos amplificadores de principios de los años 60 y las décadas siguientes, valorado por los guitarristas de todo el mundo.
Igual que los grandes amplificadores de guitarra Fender de los años 50 y 60 que pusieron las bases de nuestro legado en amplificación y definieron la esencia de la pureza y potencia de sonido, este amplificador está ensamblado en Estados Unidos.
Jensen® y Fender se remontan a los inicios. Los altavoces Jensen<sup>®</sup> han sido empleados tradicionalmente por Fender, y se caracterizan por su dulce definición en sonido limpio, y un distintivo toque de saturación de estilo vintage cuando se llevan al límite.
Especificaciones
Voltage

230V EUR

Wattage

85 Watts into 4 Ohms

Controls

Normal Channel: Bright Switch, Volume, Treble, Middle, Bass; Vibrato Channel: Bright Switch, Volume, Treble, Middle, Bass, Reverb; Vibrato: Speed, Intensity

Channels

Two - (Normal and Vibrato)

Inputs

Four - (1/4", Two Normal and Two Vibrato)

Speaker Jack

Two 1/4" Parallel (Internal and External)

Effects

Reverb, Vibrato

Effects Loop

NA
Cabinet Material

Birch Plywood

Amplifier Covering

Black Textured Vinyl

Grille Cloth

Silver

Amplifier Jewel

Red Jewel

Front Panel

Black

Handle

Molded Plastic Strap with Nickel-Plated Caps
Legal Notice

Los precios y especificaciones están sujetas a cambios sin previo aviso.
Speakers

Two - 12" Jensen® C12K with Ceramic Magnets

Total Impedance

4 ohms
Preamp Tubes

4 x 12AX7, 2 X 12AT7

Power Tubes

4 x 6L6

Rectifier

Solid State
Footswitch

2-Button Vintage Style (Reverb On/Off, Vibrato On/Off), P/N: 0994058000 (Included)

Recommended Cover

P/N: 0050250000, '65 Twin Reverb®, Black
Amp Height

19.87" (50.46 cm)

Amp Depth

10.375" (21.9 cm)

Amp Width

26.5" (67.31 cm)

Amp Weight

64 lbs. (29 kg)