Champion™ 50XL
N.º de modelo:
2330506000
El Champion 50XL está diseñado para músicos que desean un amplificador con funcionalidad y rendimiento incomparables, pero aún así fácil de usar. Ofrece una gran selección de modelos de efectos y amplificador.
Con el Champion 50, la serie Champion obtiene un modelo con un aspecto y un sonido más agresivos. Su estética negra "Black on Black" contrasta con el aspecto tradicional del resto de la serie. Cuatro emulaciones de pedal de efectos (Compressor, Overdrive, Distortion y Octaver) agregan versatilidad a los doce tipos de amplificadores, los últimos que van desde un sonido nítido y limpio hasta una distorsión metálica. También están disponibles doce efectos clásicos muy diversos para poder experimentar, van desde la reverberación al Vibratone pasando por el delay. Y para completar el menú, el altavoz Celestion® "Midnight 60" 12 "(305 mm) ofrece un sonido completo y le da a este amplificador ya muy versátil un mayor nivel de salida y una gran expresividad.
Características
El pedal opcional de dos botones le permite seleccionar canales y cambiar efectos.
50 vatios
Acabado Black on Black
Altavoz Celestion Midnight 60 de 12 "(305 mm)
12 sonidos de amplificador: 4 emulaciones de pedal de efectos
12 efectos clásicos que incluyen reverberación, retardo / eco, coro, trémolo y vibratone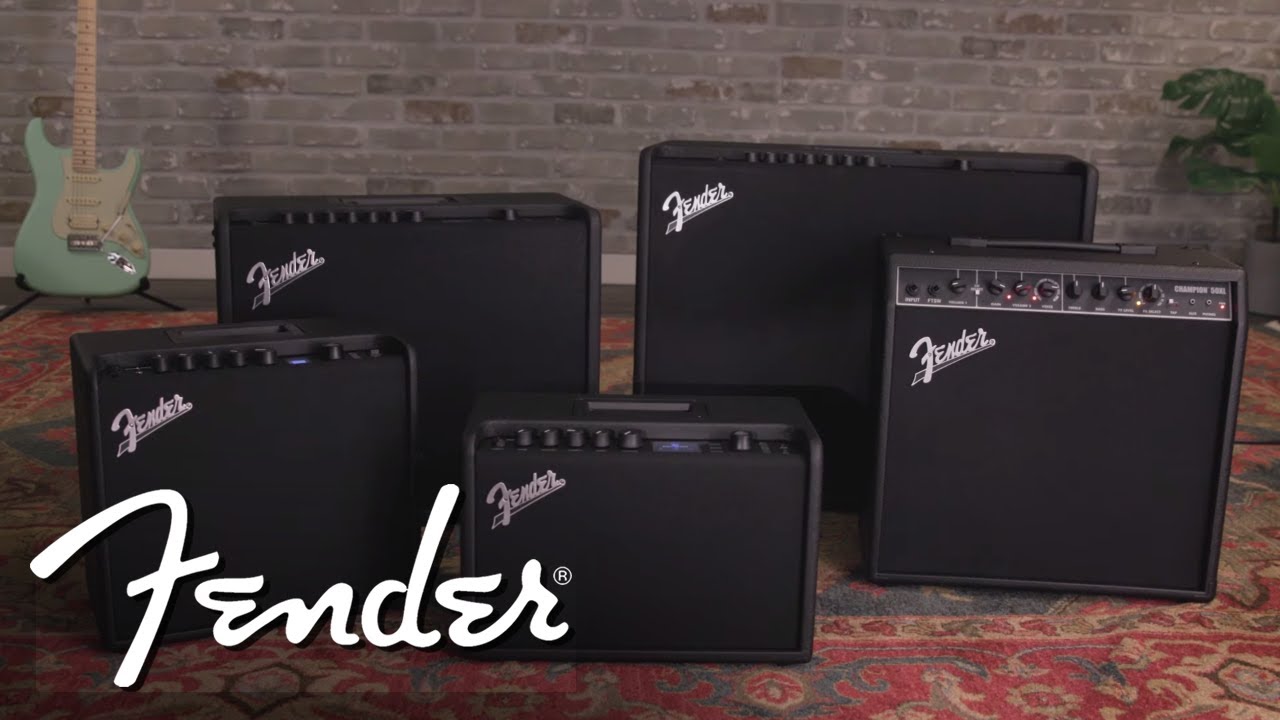 How to Pick the Right
All-In-One Guitar Amp
Destacados
AMPERIOS Y PEDALES DE EFECTO
Cuatro emulaciones de pedal de efectos brindan versatilidad a las simulaciones de 12 amplificadores, la última cubre los fundamentos desde el sonido limpio hasta la distorsión del metal.
12 EFECTOS INTEGRADOS
12 efectos clásicos que van desde la reverberación y el retardo hasta nuestro Vibratone hacen de este amplificador la plataforma de experimentación de sonido perfecta.
ALTAVOZ CELESCIÓN
El Champion 50XL incorpora un altavoz Celestion "Midnight 60" de 12 "(305 mm) que brinda un sonido completo, mayor salida y expresividad a este amplificador altamente versátil.
Especificaciones
Voltage

230V EUR

Wattage

50 Watts

Channels

Two - (Clean and Selectable Amp Voice)

Inputs

One - 1/4"
Cabinet Material

5/8" Particle Board

Amplifier Covering

Black Textured Vinyl

Grille Cloth

Black

Handle

Molded Plastic Strap with Black Powder Coated Caps
Speakers

One - 12" Custom Celestion®

Total Impedance

8 ohms
Recommended Cover

P/N: 7716352000 Champion® 40/50

Footswitch

2-Button (Channel Select, Effects On/Off), P/N: 0071359000 (Not Included)
Amp Height

17.25" (43.8 cm)

Amp Width

17.25" (43.8 cm)

Amp Depth

9" (22.86 cm)

Amp Weight

19 lbs. (8.6 kg)