Rumble™ 40
N.º de modelo:
2370306900
Listo para Retumbar
Para los bajistas de todo el mundo y en todos los niveles, los combos de bajo Rumble han sido rediseñados para ser sorprendentemente compactos, portátiles y ligeros, con un sonido de bajo Fender de potencia sísmica, y dignos de ser llevados al escenario. El elegante Rumble 40 genera 40 vatios de puro sonido Fender. Ligero y potente, está construido con formidables características, incluyendo la estética clásica Fender, el altavoz de 10", el circuito de saturación overdrive, o la versatilidad de la opción voicing con tres botones de ajuste. Un gran combo para cualquier bajista.
Características
40 vatios
Altavoz de diseño especial Fender de 10"
Caja acústica compacta y ligera (8,1 Kg) con aperturas y rejilla desmontable
Circuito con saturación Overdrive conmutable (manual o con interruptor opcional)
Sección Voicing de 3 botones (Bright, Contour, Vintage)
Salida de línea XLR con interruptor separador de toma de tierra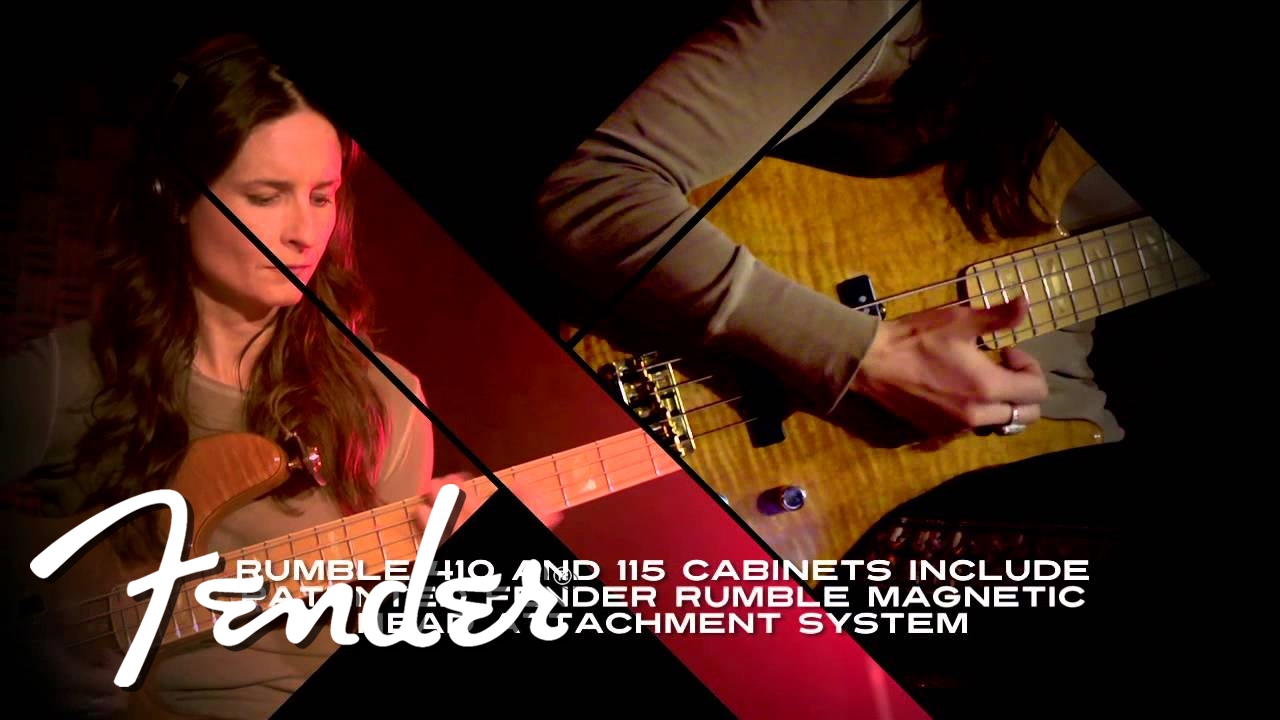 Destacados
Con simplemente pulsar un selector, tu amplificador de bajo Rumble ofrece un sonido saturado tipo overdrive, que destaca por un timbre crudo, agresivo y su increíble riqueza.
Este amplificador Rumble permite configurar tu sonido a medida mediante la característica Voicing de tres botones que consta de interruptor Bright: potenciador de agudos; interruptor Contour: recorte de medios; interruptor Vintage: emulador de sonido a válvulas de la vieja escuela.
Para una fácil compatibilización con el uso externo sobre el escenario como un uso combinado con equipos de grabación en el estudio, este amplificador de bajo consta de una salida de línea XLR en el panel posterior con interruptor separador de toma de tierra.
Para una conectividad simplificada con reproductores de medios digitales u otros dispositivos similares, este combo Rumble está equipado con una entrada auxiliar estéreo de 1/8".
Para mayor facilidad de transporte, este combo Rumble está construido de forma compacta y destaca por su ligereza.
Para mayor practicidad de uso personal en cualquier horario, sin molestar a los vecinos ni a nadie que no lleve tapones en los oídos, este amplificador cuenta con salida de auriculares.
Especificaciones
Wattage

40 Watts at 8 ohms

Voltage

230V EUR

Controls

Gain, Bright On/Off, Contour On/Off, Vintage On/Off, Drive, Overdrive On/Off, Level, Bass, Low-Mid, High-Mid, Treble, Master Volume

Channels

One - (with Selectable Bright Switch, Contour, Vintage Switch and Overdrive)

Inputs

One - 1/4"

Line Out

One - (XLR with Ground Lift)
Cabinet Material

Lightweight Plywood

Amplifier Covering

Black Textured Vinyl

Grille Cloth

Silver

Amplifier Jewel

Red LED

Front Panel

Painted Metal

Handle

Molded Plastic Strap with Nickel-Plated Caps
Legal Notice

Los precios y especificaciones están sujetas a cambios sin previo aviso.
Speakers

One - 10" Fender® Special Design

Total Impedance

8 ohms
Power Tubes

NA

Preamp Tubes

NA

Rectifier

NA
Footswitch

1-Button Economy (P/N: 0994049000), Vintage (P/N: 0994054000), LED (P/N: 0994052000) (All Footswitches Not Included)
Amp Weight

18 lbs. (8.16 kg)

Amp Height

16.5" (41.91 cm)

Amp Width

16.5" (41.91 cm)

Amp Depth

12" (30.5 cm)