new
The Pelt Fuzz
PER UN SUONO SPORCO
Un buon pedale fuzz è indispensabile: questo suono gloriosamente splatter e soddisfacente è la pietra angolare del timbro rock da decenni. Progetto totalmente originale, The Pelt Fuzz nasconde alcuni assi nella manica. Tutti i controlli familiari sono disponibili: Level, Fuzz e Tone, insieme ad un controllo Bloom per sagomare alla perfezione il suono. La nostra arma segreta, il selettore Mid, permette di potenziare o tagliare i medi per ottenere ulteriori opzioni di sonorizzazione, mentre il selettore Thick aggiunge una certa rotondità al suono.
Funzionalità
Pedale per effetti fuzz al silicio

Selettori di sonorizzazione Mid e Thick Manopole con retroilluminazione

LED; LED amplificatore a gemma

Fender Sportello batteria 9V con cerniera a chiusura magnetica

Costruzione leggera e robusta in alluminio anodizzato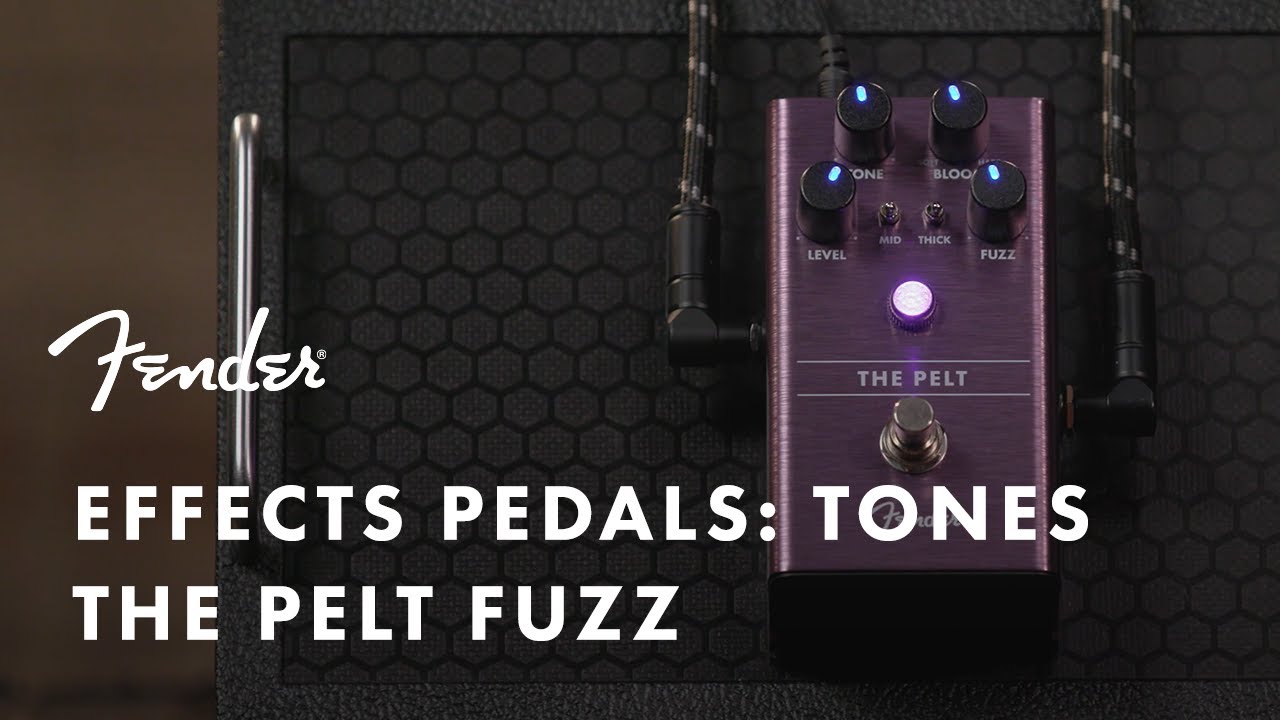 In evidenza
TRANSISTOR AL SILICIO
The Pelt Fuzz è realizzato con transistor al silicio, che producono il classico suono degli anni '60.
SELETTORI DI SONORIZZAZIONE
I selettori Mid e Thick cambiano la trama del pedale The Pelt Fuzz, arrivando a soddisfare tutte le esigenze timbriche, dal pieno al sottile.
LED AMPLIFICATORE A GEMMA FENDER
Il LED dell'amplificatore a gemma Fender è immediatamente riconoscibile e non lascia alcun dubbio sul pedigree di questo pedale: è un tocco estetico classico dei nostri rinomati amplificatori.
MANOPOLE CON ILLUMINAZIONE LED
Le manopole con illuminazione LED permettono di individuare le impostazioni dei controlli a colpo d'occhio, anche sui palchi più bui.
SPORTELLO BATTERIA MAGNETICO
L'esclusivo sportello per batteria 9V con chiusura magnetica "in attesa di brevetto" permette di sostituire le batterie in modo facile e veloce.
COSTRUZIONE PRONTA PER IL PALCO
Tutti i pedali Fender sono realizzati in alluminio anodizzato leggero e robusto, in grado di resistere facilmente anche ai rigori dei tour.
Specifiche
Input Impedance

500k ohm

Output Impedance

10k ohm

Power Consumption

50mA

Power Requirements

9-Volt Battery or Center Negative AC Adapter (not included)