new
Rumble™ 100
Pronto a rombare
Destinati ai bassisti di tutto il mondo e di tutti i livelli, i combo per basso Rumble sono riprogettati per essere incredibilmente compatti, portatili e leggeri, con timbri bassi Fender molto profondi e caratteristiche degne del palcoscenico.

L'elegante combo Rumble 100 sviluppa 100 Watt di bassi di pura forza ed eleganza. Più leggero e con la voce più possente che mai, è costruito con grandi caratteristiche che comprendono il classico stile Fender, cono Eminence® da 12", circuito di overdrive, versatile sonorizzazione a tre pulsanti e altro ancora. Un combo di cui qualunque bassista non può fare a meno.
Funzionalità
100 Watt
Cono da 12" Eminence® Special Design
Cassa con porte compatta e leggera (10 kg) con griglia rimovibile
Circuito di overdrive (controllato manualmente o con footswitch opzionale)
Sezione di sonorizzazione a tre pulsanti (bright, contour, vintage)
Uscita di linea XLR con messa a terra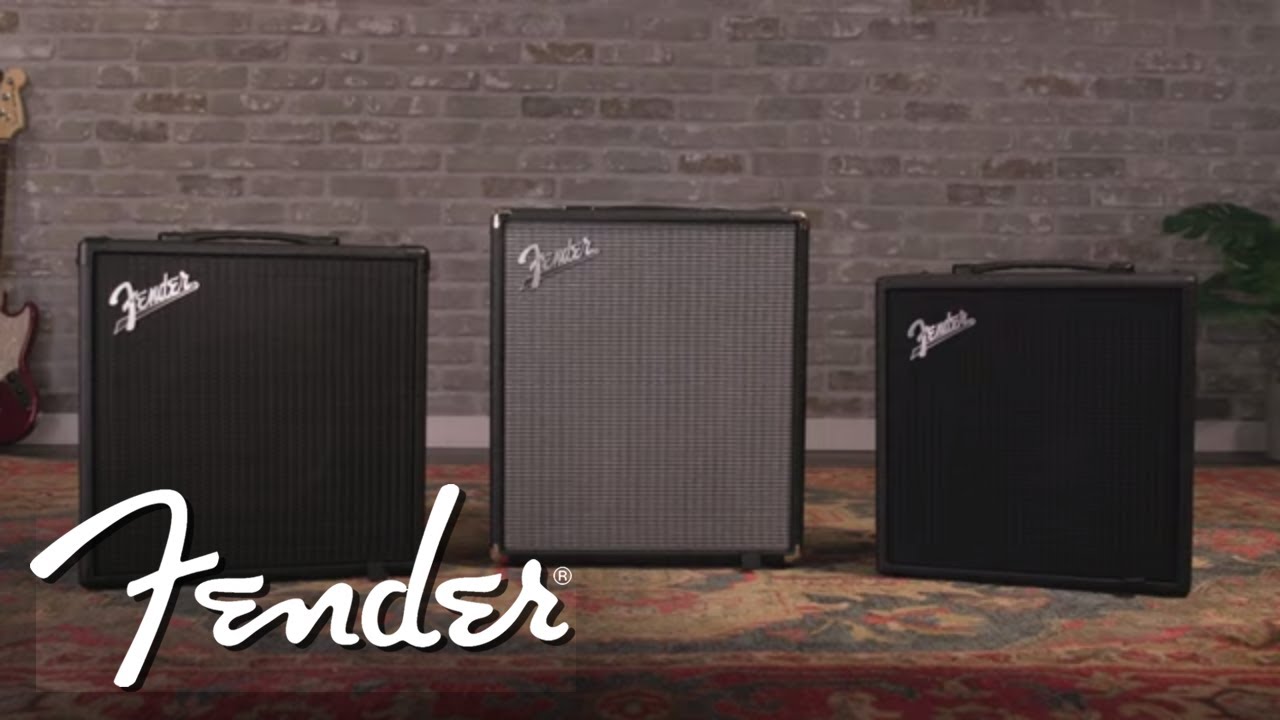 How to Pick the Right
Bass Amp
In evidenza
Overdrive switch
Con il semplice azionamento di un selettore, l'amplificatore per basso Rumble produce un timbro overdrive graffiante, aggressivo, incredibilmente ricco e soddisfacente.
XLR line output
Per una facile compatibilità con i sistemi per palco esterni e quelli per performance in studio e registrazioni, questo impianto per basso è dotato di un'uscita di linea XLR sul pannello posteriore con selettore di messa a terra
Auxiliary input
Per facilitare la connettività con i media player digitali e altri dispositivi simili, questo combo Rumble è dotato di un ingresso ausiliario stereo da 1/8".
Three-button tone voicing
Questo amplificatore Rumble permette di personalizzare il proprio suono con una versatile sonorizzazione timbrica a tre pulsanti, costituita da un selettore high-end-boost "bright", un selettore mid-scoop "contour" e un selettore di emulazione valvole "vintage" vecchia scuola.
Effects loop
Per prestazioni ottimali e il collocamento degli effetti in uscita preferiti nella catena del segnale, questo ampli Rumble comprende un loop effetti sul pannello posteriore con jack da ¼" di invio e ritorno.
Headphone output
Specifiche
Wattage

100 Watts at 8 Ohms

Voltage

230V EUR

Controls

Gain, Bright On/Off, Contour On/Off, Vintage On/Off, Drive, Overdrive On/Off, Level, Bass, Low-Mid, High-Mid, Treble, Master Volume

Channels

One - (with Selectable Bright Switch, Contour, Vintage Switch and Overdrive)

Inputs

One - 1/4"

Line Out

One - (XLR with Ground Lift)
Cabinet Material

Lightweight Plywood

Amplifier Covering

Black Textured Vinyl

Grille Cloth

Silver

Amplifier Jewel

Red LED

Front Panel

Painted Metal

Handle

Molded Plastic Strap with Nickel-Plated Caps
Speakers

One - 12" Eminence® Special Design

Total Impedance

8 ohms
Power Tubes

NA

Preamp Tubes

NA

Rectifier

NA
Footswitch

1-Button Economy (P/N: 0994049000), Vintage (P/N: 0994054000), LED (P/N: 0994052000) (All Footswitches Not Included)
Amp Weight

22 lbs. (9.98 kg)

Amp Height

18.5" (47.0 cm)

Amp Width

16.5" (41.91 cm)

Amp Depth

14" (35.56 cm)