Bassbreaker™ 45 Head
Bassbreaker™ 45 Head
Parallel Evolution
Flexibility is the name of the game for the flagship Bassbreaker 45 Head, the latest evolution of the "granddaddy" of almost all amps - the '59 Bassman®. This amp delivers grit, crunch and grunt in style, along with mile-wide dynamic range and redefined dirty tube tones. This powerful, roadworthy beast dishes out plenty of authentic Fender sound with a modern twist.
Features
45-watt head
Three 12AX7 preamp tubes and two EL34 power tubes for hard rockin' tone
Three inputs for "channel jumping"
Variable output knob goes from one to 45 watts
Includes protective amp cover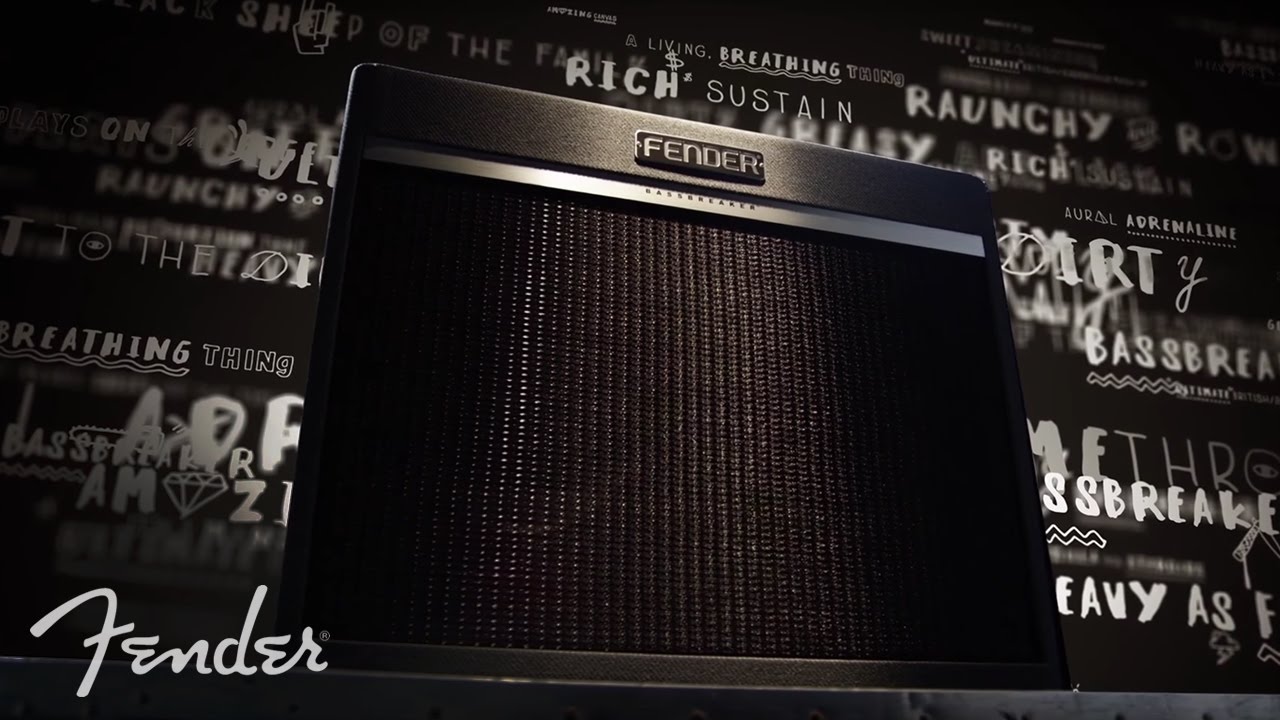 Watch Artists Experience The
Bassbreaker™ 45
Highlights
TUBE CIRCUITRY
There's nothing quite like the pure, powerful sound of a Fender tube amplifier. The tonal richness and touch-sensitive dynamics of real tubes have given Fender amps an unmistakable voice for more than 60 years—defining the sound of musical recordings and performances you've heard your whole life.
EASY CHANNEL JUMPING
The "Both" input combines the Normal and Bright inputs without requiring an extra cable, creating deeply complex tone with increased note definition and dynamic response.
CLASSIC TWEED TONE
Heard on countless recordings since the 1950s, this is the timeless guitar amp tone of the original-era tweed-covered Fender amps and their tweed descendants from every decade since, with remarkable touch sensitivity and sound that really comes alive when cranked.
Specs
Voltage

230V EUR

Wattage

45 watts

Controls

Volume Normal, Volume Bright, Output, Bass, Middle, Treble, Presence

Channels

Two - (Normal and Bright)

Inputs

Three - Normal, Bright, Both

Speaker Jack

Main speaker jack disconnects internal speaker to allow the amp's 1/4" output to be used with external speaker enclosures. Impedance select switch can be set to 4, 8 or 16 ohms.
Cabinet Material

7-ply 3/4" Meranti plywood

Amplifier Covering

Gray Tweed

Grille Cloth

Black

Amplifier Jewel

White Jewel

Front Panel

Black

Handle

Black Leather Handle
Speakers

N/A

Total Impedance

4, 8, or 16 ohms
Preamp Tubes

3 x 12AX7

Power Tubes

2 X EL34

Rectifier

Solid State
Amp Height

10.75" (27.3 cm)

Amp Depth

8.5" (21.6 cm)

Amp Width

26.22" (66.6 cm)

Amp Weight

32 lbs. (14.5 kg)