new
PreSonus® Eris® E5 Studio Monitor
2-Way Active Studio Monitor
Whether you're upgrading your listening experience or producing music, Eris® E5 studio monitors deliver superior sound in a stylish design. Equipped with 80W of Class AB biamplification, flexible connectivity and a robust suite of acoustic tuning controls to mitigate room anomalies, Eris E5s deliver a smooth, refined sound that accurately reproduces transients and high frequencies, while providing a less-fatiguing listening experience during marathon mixing and production sessions.
A five-inch woven-composite woofer helps break up reflected energy to provide a constant dispersion pattern, for a cleaner overall sound, delivering a smooth low end that belies the Eris E5's compact size. The custom-designed silk-dome tweeter's wide dispersion pattern creates a large sweet spot and superior stereo imaging.
A speaker's performance can be impaired by room placement and anomalies. That's why the Eris E5 offers acoustic tuning controls that let you configure the speaker for your room for the most accurate listening experience. You get Low-cut, Mid and High controls as well as a three-way Acoustic Space tuning that compensates for the effects of placement against a wall or in a corner. Balanced XLR and ¼-inch TRS and unbalanced RCA line-level inputs make it easy to connect virtually any line-level source.
Suitable for both home recording studios and professional production, Eris E5 studio monitors combine sterling audio quality with the flexible tuning and connectivity you've come to expect from PreSonus®.
Sold Individually.
Features
The only true studio monitor for multimedia, gaming, watching movies, or producing your next hit.
50 watts of Class D power for each speaker provides all the volume you want without ever sacrificing tonal balance or audio clarity
5.25-inch (133.35 mm) woven-composite drivers produce a more powerful bass response accurately and smoothly.
1-inch (25 mm) ultra-low mass, silk-dome, high-frequency transducers provide a wide sweet spot for superior stereo imaging.
Bluetooth 5.0 technology ensures high-fidelity wireless audio quality.
¼" TRS balanced inputs for professional audio devices, unbalanced RCA inputs for consumer electronics, plus a convenient front-panel ⅛" TRS stereo input.
High and Low Acoustic Tuning controls let you fine-tune the Eris® E5 BTs precisely to your environment to further ensure the best sound possible.
Listen in private without rewiring your electronics, using the easy-access front-panel headphone amp.
Add a subwoofer quickly and easily with the balanced sub output.
Studio One® Prime recording software and Studio Magic suite provides $1,000 USD worth effects plug-ins, virtual instruments, and more for your music productions.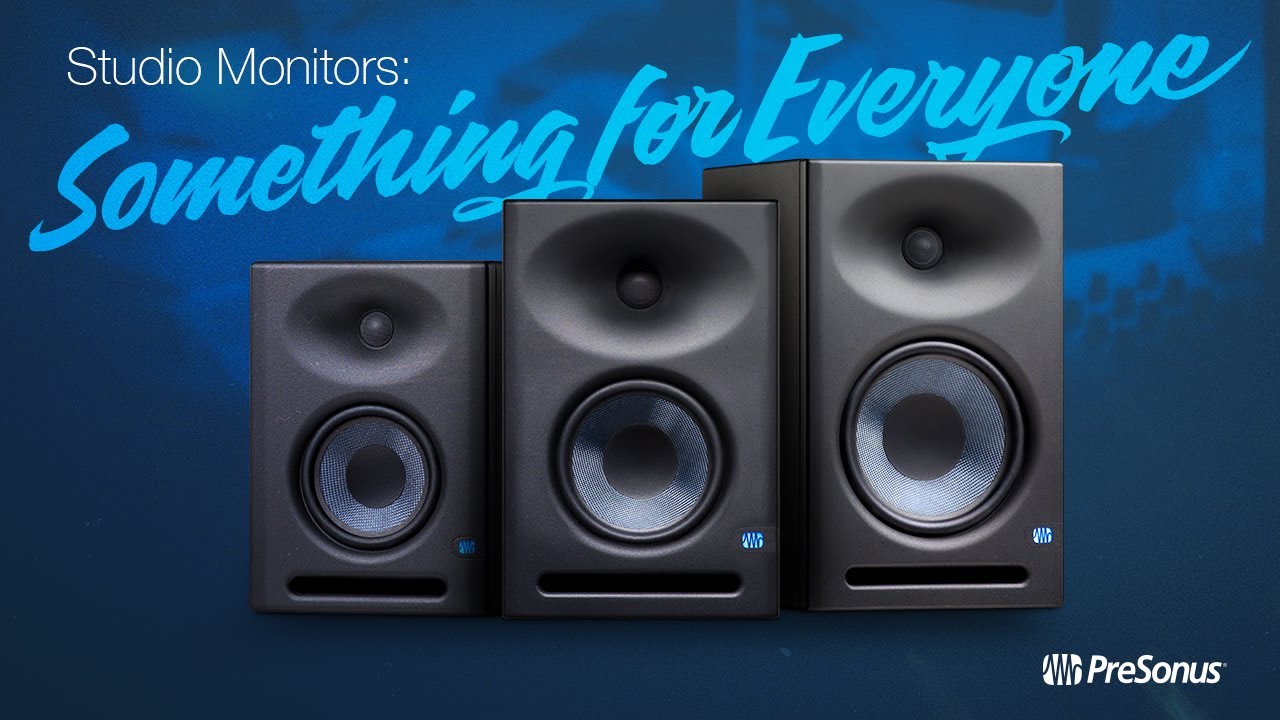 Highlights
Designed to sound their best in any room.
Eris E5 studio monitors are equipped with Acoustic Tuning controls to ensure the flattest response in your mix environment. You get Low-cut, Mid, and High controls, as well as three-way Acoustic Space tuning that makes it easy to compensate for the boundary bass boost that occurs when a speaker is placed too close to a wall.
World-class recording software included.
Eris E5 studio monitors come with a special edition of PreSonus® Studio One™ Prime recording and production software, with the entire Studio Magic software suite enabled. Studio Magic includes over $1,000 USD worth of music software including plug-ins, loops, virtual instruments, effects and tutorials.