new
PreSonus® Eris® E5 XT Studio Monitor
Suitable for both home recording studios and professional mix engineering, Eris XT studio monitors combine sterling audio quality with the flexible tuning and connectivity you've come to expect from PreSonus. The Eris E5 XT is a substantial update to a lauded classic. Deeper lows and a wider, more controlled sweet spot, thanks to its EBM waveguide design, mean that our best-selling studio monitors just got even better.
The custom-designed EBM (Elliptical Boundary Modeled) waveguide provides superior high-frequency response and wider 100-degree horizontal dispersion to create a broader sweet spot. Narrow vertical dispersion reduces reflections from your desk. Silk-dome tweeters ensure snappy, accurate transient reproduction.
The woven composite low-frequency driver offers Eris' signature tight, clear bass with plenty of punch and no flab. The ported enclosure maximizes bass response and allows the Eris E5 XT to reach down to an astonishing 48 Hz. That's 10 Hz below previous models—with no subwoofer!
Flexible input options let you connect almost any line-level source, from mixers to audio interfaces and more. Eris E5 XT monitors provide balanced XLR, balanced ¼-inch TRS, and unbalanced RCA line-level inputs. You'll have no problem hooking your Eris speakers up to virtually anything.
It's Eris remastered.
Features
5.25-inch woven composite low-frequency transducer and 1-inch (25 mm), ultra-low-mass, silk-dome, high-frequency transducer
100˚(H) x 60˚(V) EBM waveguide for wide sweet spot
Front-firing acoustic port for superior bass-frequency reproduction and optimized, resonance-suppressing internal bracing
70 watt, Class AB biamplification
102 dB maximum continuous SPL, with 48 Hz to 20 kHz frequency response
Acoustic Tuning controls: HF (±6 dB, continuously variable); Midrange (±6 dB, continuously variable), and Acoustic Space (flat, -2, -4 dB), plus highpass filter (Off, 80 Hz, 100 Hz)
RF interference, output current limiting, over-temperature, transient, subsonic protection and amplifier "soft start" feature (eliminates popping on power-up)
Internal power supply with IEC connector and power switch with on/off LED
Balanced XLR and ¼-inch inputs and unbalanced RCA inputs
Studio One™ Prime and Studio Magic Software Suite ($1,000 value!)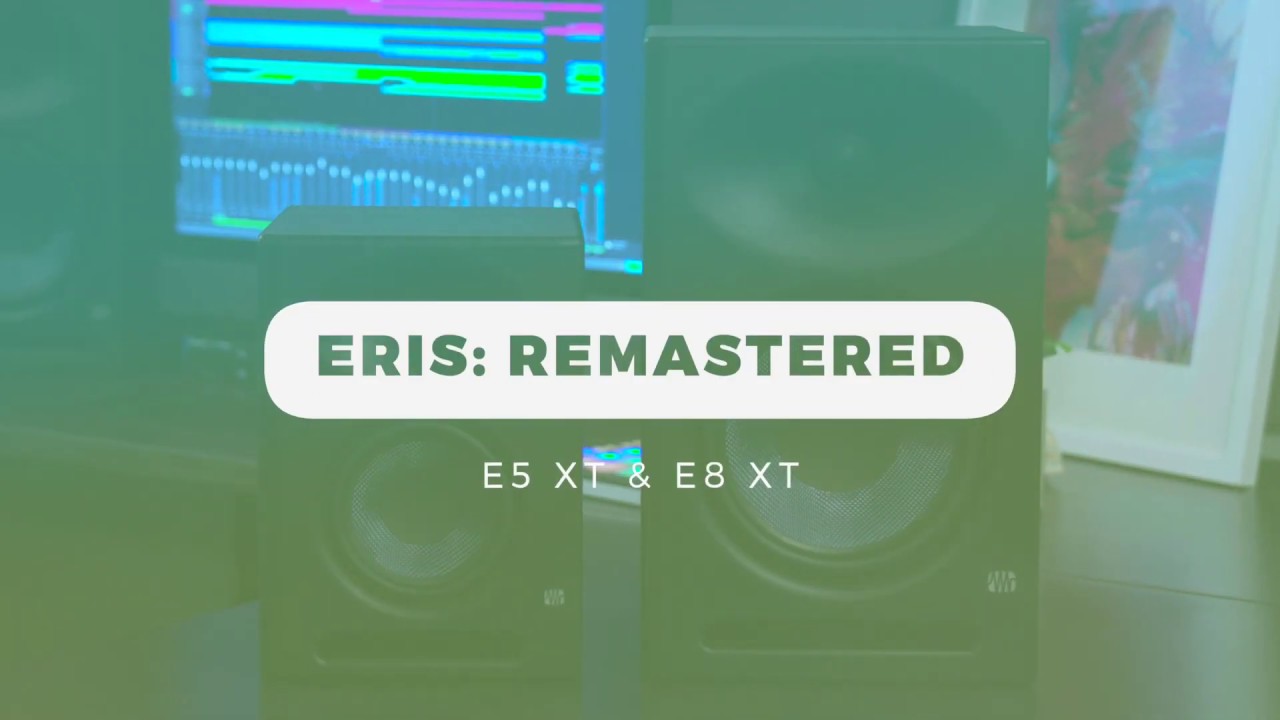 Highlights
Set up your studio monitors for your room.
Eris E5 XT studio monitors are equipped with Acoustic Tuning controls to ensure the flattest response in your mix environment. You get Low-cut, Mid, and High controls, as well as three-way Acoustic Space tuning that makes it easy to compensate for the boundary bass boost that occurs when a speaker is placed too close to a wall.
World-class recording software included.
Eris E5 XT studio monitors come with a special edition of PreSonus® Studio One™ Prime recording and production software, with the entire Studio Magic software suite enabled. Studio Magic includes over $1,000 USD worth of music software including plug-ins, loops, virtual instruments, effects and tutorials.